Asset Publisher
Golden Fountain Square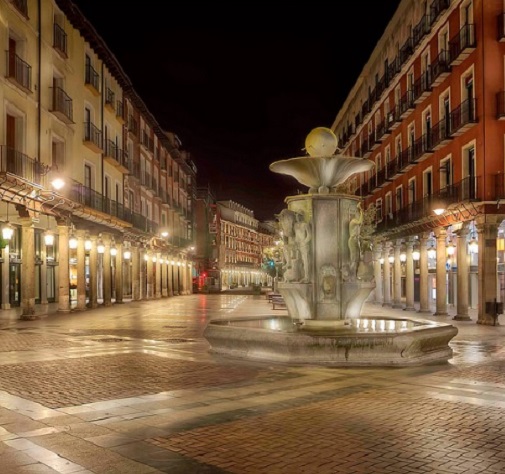 The Fuente Dorada (Golden Fountain) Square, in the city centre and shaped roughly as a triangle, began to take shape in the 13th Century, at the same time as Market Square (today the Main Square). In 1603, its interior area was known as "'The Old Hen House", perhaps because it was used to sell already dead poultry. Later it was called the Plazuela de Fuente Dorada. The houses that make up its outline were given different names, according to their trades: Lorigueros sold the breastplates; Espadería, sold swords; and Lancería traded with spears. Across the street we find Guarnicioneros and Mercaderes Streets. However, in the 17th Century they were known by the locals as Fuente Dorada. The oldest reference to the Argales fountain or Fuente Dorada is written in one of Miguel de Cervantes's novels: La Ilustre Fregona. In that book Fuente Dorada is praised for its old age and the quality of its waters. Pedro de la Bárcena started the construction of this old fountain in 1616, supervised by Diego de Praves, master builder of the city. There is insufficient data on what Fuente Dorada was like originally, but in 1725 Ventura Pérez said: "... they took off a bronze ball with its needle and thy put stone dolphins instead. They also placed the statue of Spring on a flowerpot. It was a very golden and a boy decapitated the statue by throwing a rock at it, and it was never replaced, so today it is called the Headless Spring Fountain". In 1840, after several renovations, they placed a statue of Apollo, only to rebuild Fuente Dorada in 1876. They shaped it as a column decorated with golden motifs. In 1949 a sculpture was installed, to which they gave the nickname 'Don Purpurino', because it was painted with glitter. Afterwards they changed it for an enormous column, which now stands in the centre of Trinity Square. In 1997 the city of Valldolid commisioned the architect Fernández González Poncio with the last renovation of Fuente Dorada Square; he designed a completely new square. It has various sculptures and inscriptions of all the old guilds of Valladolid: potters, washers, water carriers, lancers, silversmiths... these figures alternate with representations of the seasons; Spring looks towards Teresa Gil street and, following the movement of the sun, we have the figures of Summer, Autumn and Winter. Today, this square continues to be an important and busy commercial area.
Información turística
Tourist Office on Acera de Recoletos
Open Monday to Saturday from 9:30 a.m. to 2 p.m. and from 4 p.m. to 7 p.m. Sundays, from 9:30 a.m. to 2 p.m.
Phone: 983 21 93 10
Tourist Office on San Benito, Calle de San Benito s/n
Open Monday to Saturday from 10 a.m. to 2 p.m. and from 4 p.m. to 7 p.m. Sundays, from 10 a.m. to 2 p.m.
Phone: 983 42 61 93
Tourist Information Point at the Train Station
Open Tuesday to Saturday from 10 a.m. to 2 p.m. and from 4 p.m. to 7 p.m. Sundays, from 10 a.m. to 2 p.m.
Phone: 983 42 60 30
Media Gallery
Valladolid seen through the eyes of its inhabitants and tourists