Organiza tu visita - cómo llegar
How to get there
Valladolid enjoys a privileged geographical position, located just 50 minutes from Madrid by train and just over two hours drive from the coast, with quality road
infrastructures such as the high-speed railway line, highways and its own airport.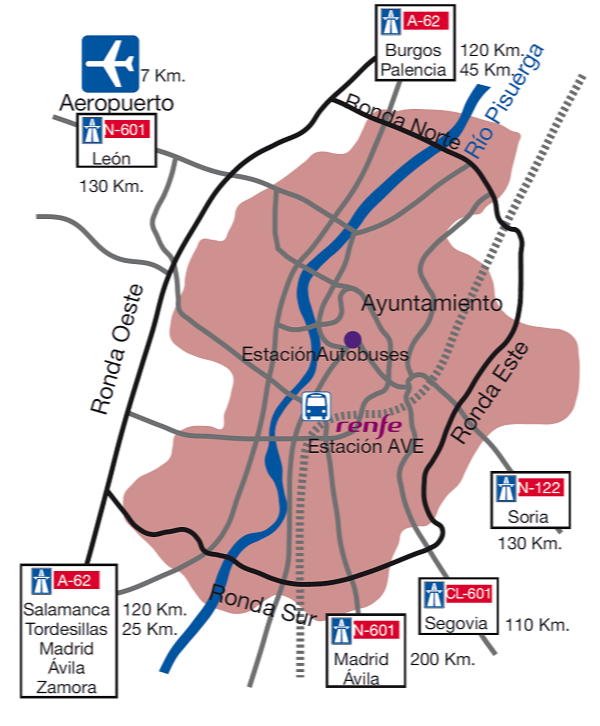 By road
The convenient access by road to Valladolid is possible from anywhere in the
country, due to a strong motorway network such as the A-6, which allows you to
reach Madrid in two hours and connects with La Coruña, passing through enclaves such as Ponferrada or Lugo.
The main cities of our region are also a step away: it takes just over an hour from
Segovia (A601), Salamanca (A62), Burgos (A62) or Zamora (A11 and A62). The
route, by national road to León takes less than two hours.
In less than three hours you can be in Valladolid if you come from cities such as
Toledo, Gijón, Oviedo, Vitoria-Gasteiz or Guadalajara; and you won't get to four if you travel from San Sebastian, Zaragoza, Badajoz, Cáceres, Ciudad Real, the Galicia capitals or some Portugal areas (Porto, Braga, Guimaraes, Braganca...) and France (Biarritz, Bayonne, Saint Jean de Luz...).
If you come to visit us by car, check out our interactive car parks map in the city
center, it will be useful!
By train
Spanish High Speed (AVE) allows you to set foot in Madrid in just 50 minutes! This great connection allows you to travel Valladolid-Sevilla, Valladolid-Alicante or Valladolid-Barcelona in about four hours. From Valencia and Cordoba it will take half an hour less.
Besides, thanks to the Avant service, you can come from Madrid at almost any time of the day: it offers 27 daily services in both directions and 14 on weekends; service in which Renfe offers discounts for groups and young card holders.
Check Renfe shedules on their website.
Other areas, such as the northern part of the country, are accessible by train with
other Renfe Alvia services.
Valladolid is also one of the towns integrated into the Ave Cities Network, an
association that brings together under the motto 'Avexperience' : the main tourist destinations of the country connected by high speed. Its flagship product, Renfe
Spain Pass, allows you to choose as many trips as you want (4, 6, 8 or 10) and buy them up to 6 months in advance, in two categories (Tourist and Business) and for two age ranges (children and adults). It includes all AVE trains as well as medium and long distance trains. The easiest way to discover Spain.
Airports
Valladolid Airport, located in the neighboring town of Villanubla, has domestic flights to Barcelona – El Prat, an unbeatable connection that allows you to link with almost 200 destinations around the world.
The bus ride from the airport to the center of Valladolid takes about twenty-five minutes and runs every 90 minutes from 8 a.m. to 9 p.m. Check the fares and
schedules for the Valladolid-Airport line and for the intercity lines that connect the center with Valladolid-Airport-León and Valladolid-Airport-Madrid.
The airport also has an urban taxi rank that apply a flat rate between the airport and the city center.
You can also rent a car to get around Valladolid in total comfort: within the airport you will find car rental offices.