Titular Valladolid con niños

Valladolid with children
Valladolid con niños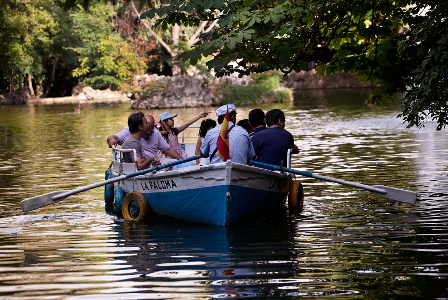 We offer you a wide range of options so you know what to do in Valladolid with children and make the most of your getaway. The little ones in the family will thank you! Let's play!
If the weather is good, take the opportunity to discover one of Valladolid's most beloved spots for both kids and adults: Campo Grande. It's a true botanical garden in the city center where you can observe ducks, swans, squirrels, and peacocks freely roaming around. You can even take a boat ride and laugh while listening to funny stories from the boatman. If you visit on a Sunday, remember that the Tourist Office offers activities for children and families, turning Campo Grande into a stage for incredible adventures.
You can also take a pleasant walk along the Canal de Castilla or in the large forest park of Cerro de las Contiendas, or even lounge on the sandy beach of the Pisuerga River. From there, you can hop on the boat 'La Leyenda del Pisuerga' – don't hesitate, it's always a hit with families.
Museums are also great for children. One of the best options in Valladolid is the Science Museum, with interactive games on fascinating topics for kids like meteorites and dinosaurs. It even has a planetarium. Without leaving the city, kids can learn about their heroes through museum houses, such as Miguel de Cervantes, who brought the admirable Don Quixote to life, or the intrepid navigator Christopher Columbus. On Mondays, when museums are closed, dedicate your time to the Museum of Natural Sciences.
If you come by car, you can visit the Pinewood Workshops, a multi-adventure park in the Antequera Pinewood (another place families should consider: over a thousand hectares of woods and trails that can also be accessed by public transportation – line 15 of AUVASA). You can also discover over sixty games in the Valley of the Six Senses, in the town of Renedo de Esgueva, a perfect attraction to release energy: outdoor sports activities, mini-golf, games accessible to all, and sessions in an amphitheater. Put your senses to the test and live the experience in this park just a step away from Valladolid.
Just a step away from the center of Valladolid (accessible by AUVASA line 2), you'll find the Center for Environmental and Educational Proposals (PRAE). It's an environmental park aimed at raising awareness about the natural environment in a fun way, with options ranging from the 3R Garden to educational vegetable gardens and twelve plots representing different ecosystems. Not to mention the numerous activities it offers every weekend.
Información turística
Tourist Office on Acera de Recoletos
Open Monday to Saturday from 9:30 a.m. to 2 p.m. and from 4 p.m. to 7 p.m. Sundays, from 9:30 a.m. to 2 p.m.
Phone: 983 21 93 10
Tourist Office on San Benito, Calle de San Benito s/n
Open Monday to Saturday from 10 a.m. to 2 p.m. and from 4 p.m. to 7 p.m. Sundays, from 10 a.m. to 2 p.m.
Phone: 983 42 61 93
Tourist Information Point at the Train Station
Open Tuesday to Saturday from 10 a.m. to 2 p.m. and from 4 p.m. to 7 p.m. Sundays, from 10 a.m. to 2 p.m.
Phone: 983 42 60 30
Media Gallery
Valladolid seen through the eyes of its inhabitants and tourists