Asset Publisher
Lugares - monumentos - Seminary School of Saint Gregory
Seminary School of Saint Gregory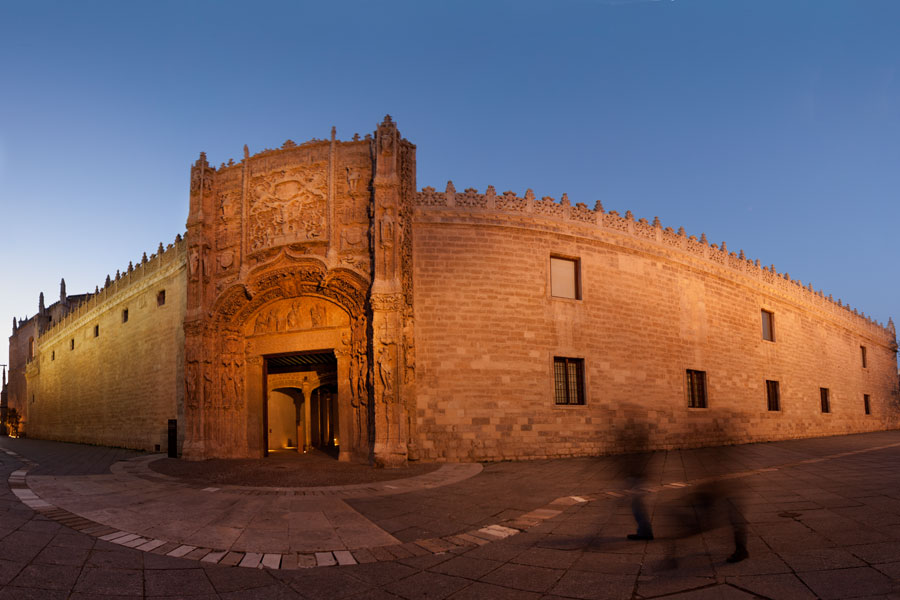 Discover its enigmatic façade
It is an architectural work from the end of the 15th Century, under the guidance of Fray Alonso de Burgos, confessor of the Catholic Monarchs and Bishop of Palencia.
Its monumental façade replete with decorative and sculptured elements attributed to Gil de Silóe is worth noting. With Fray Alonso before the Pope in the tympanum and St. Dominic and St. Paul at the sides.
The buttresses are decorated with warriors. There are also angels with the armorial bearings of the founder. In the centre piece there is a pomegranate tree sheltering the arms of the Catholic Monarchs with a pomegranate in the top representing their conquer (so it is dated after 1492).
The design of the chapel, where the bishop is buried, is attributed to the architects Juan Guas and Juan de Talavera, starting in 1484. In 1499 a sacristy by Simón de Colonia was attached to it. Now it is state property and houses since 1933 the National Scultpture Museum.
Media Gallery
Valladolid seen through the eyes of its inhabitants and tourists
Asset Publisher
Palacio del Marqués de Villena
Sumérgete en el Valladolid de la Corte
El Palacio del Marqués de Villena se edificó en el siglo XVI pero, debido a las sucesivas reformas que lo han adaptado al gusto de cada época, ha perdido su aspecto original. Incluso los torreones fueron añadidos al conjunto en el siglo XIX, junto con la ornamentación, que recuerda a la del Palacio Real.
Los únicos elementos primitivos que sobreviven son los que se enmarcan en la portada: una esbelta puerta con arco de medio punto, la ventana que la sobrevuela y el escudo labrado en piedra.
Desde 1982 es una de las sedes del Museo Nacional de Escultura, en donde se muestra el magnífico Belén Napolitano.