Asset Publisher
Lugares - Arte urbano - Lo profundo es el aire
Lo profundo es el aire
Los versos del vallisoletano Jorge Guillén (1893-1984), primer escritor laureado con el Premio Cervantes, inspiran la serie escultórica 'Lo profundo es el aire' que el donostiarra Eduardo Chillida dedicó a quien fuera su íntimo amigo. Ambos se conocieron en 1971, cuando el escultor fue invitado a impartir clases en la Universidad de Harvard. Allí era docente Guillén, exiliado de España desde 1938.
Una de estas piezas puede verse en la calle Cadenas de San Gregorio, frente al palacio de Villena y enmarcada por el histórico muro del convento de San Pablo.
La obra se inauguró en noviembre de 1982 con la presencia del propio Chillida.
Se trata de una escultura de 3,5 metros de longitud y 1,5 de altura, realizada en acero después de que el artista descartase, a última hora, las estructuras de hormigón que ya tenía realizadas. Como él confesó, y recoge El País, "porque con esta nueva escultura la profundidad estará en el entorno, en la inmensa pared de piedra que rodeará la estructura de acero (se refiere a la iglesia de San Pablo); será una profundidad vertical".
Información turística
C/ Acera de Recoletos s/n (Oficina de turismo central)
Teléfono: 983 21 93 10
Punto de Información de San Benito, Calle de San Benito s/n
Teléfono: 983 42 61 93
Contactar
Media Gallery
Valladolid seen through the eyes of its inhabitants and tourists
Asset Publisher
Homenaje a Miguel Delibes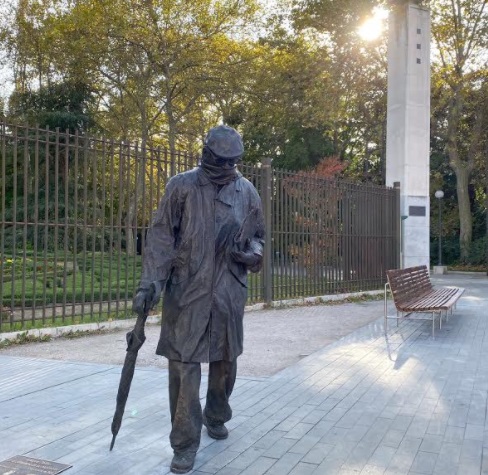 Esta escultura es un homenaje al escritor vallisoletano Miguel Delibes en el centenario de su nacimiento (1920-2020).
Obra del escultor Eduardo Cuadrado, evoca una imagen del literato que aún permanece en la memoria de los vecinos: Delibes con su gabardina, gorra visera y paraguas, en uno de sus paseos por el Campo Grande de Valladolid. Una costumbre que el escritor mantuvo a lo largo de toda su vida; incluso en los días más fríos, Miguel Delibes disfrutaba de su paseo diario en este romántico jardín que tantos alegres recuerdos le dejó: aquí dio sus primeros pasos, se declaró a su mujer, Ángeles de Castro, y disfrutó más tarde de la infancia de sus hijos y nietos.
Cuadrado ha optado por una reproducción a tamaño natural colocada directamente sobre el pavimento, sin pedestal ni peana. Delibes vuelve, así, a pasear por las calles de su vida y rodeado de sus paisanos.
La estatua de Miguel Delibes se encuentra en la plaza de Zorrilla, junto a la entrada del Campo Grande desde el paseo del Príncipe.