Getting around
Getting around
Its average size and flat configuration make Valladolid a perfect city to move around on foot. However, the numerous options for moving around within the town guarantee an adequate service for each person.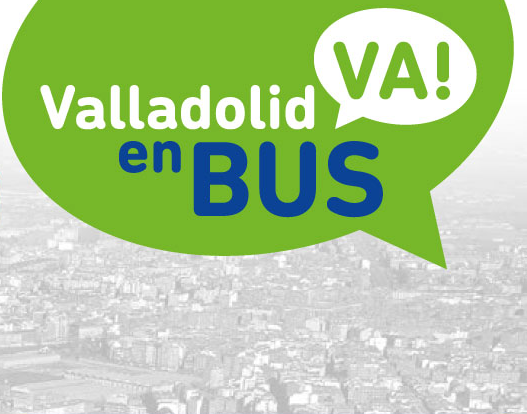 City bus
AUVASA's more than twenty ordinary lines run through all the districts of Valladolid,
as well as the municipalities of La Cistérniga and Simancas.
At weekends and on the eve of public holidays, it offers five 'Owls', the so-called night bus service, which runs from 10.30 p.m. until 3 a.m.; while on working days AUVASA, links the districts with the city centre from 6.55 a.m., thanks to seven morning lines.
In addition, during sporting and cultural events of special interest (soccer matches, Pingüinos concentration, local fiestas...) it provides a complete special service.
You can check the lines and stops in the bus stops signs of each one. In many of them you will find an electronic panel with the time left for the next vehicle to arrive. This information can also be found on the AUVASA website and in the mobile application: all you have to do is enter the stop number or read the QR code that you will find on the
post or marquee.
Tourist bus
What better way of transportation than the tourist bus if you come to visit us? Every weekend and holiday you will be able to visit the most emblematic places of the city on board this double-decker bus -the upper open-top one-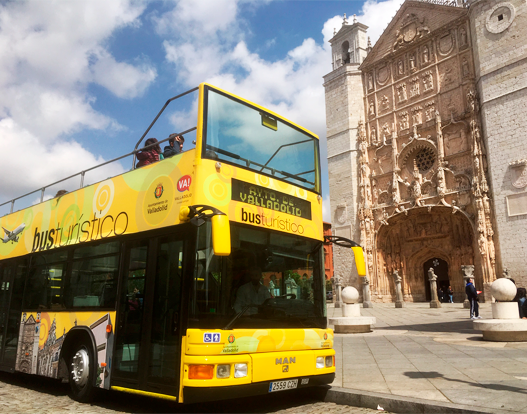 The complete tour lasts 50 minutes. It starts on Acera de Recoletos Street, next to the Tourist Office, and after a panoramic view of the Pisuerga River and Las Moreras Gardens, it takes a detailed route through the historic center of Valladolid, with stops in front of the most significant historical buildings. You will have your own headphones and individual sound at your seat, with an audio guide available in Spanish, English, French, German, and Portuguese.
Stops:
1st Acera de Recoletos
2nd Paseo Isabel la Católica (Municipal Archive)
3rd C/San Quirce,5
4th C/Angustias (Courts)
5th Plaza Portugalete
6th Columbus House Museum
7th San Pedro Church (House of the Student)
8th Plaza de la Universidad
9th Plaza de España
10th End -Acera de Recoletos
With your ticket, you can hop on and off as many times as you want on the same day. Tickets for the tourist bus can be purchased at the tourist offices, but if you purchase the Valladolid-Card at the Tourist Office, for the same price, you can ride the Tourist Bus and enter museums for free on the same day (check the conditions).
Departures
In July and August, on Thursdays and Fridays the tour is available at 5:00 PM, 6:00 PM, and 7:00 PM, and on Saturdays and Sundays at 12:00 AM, 1:00 PM, 5:00 PM, 6:00 PM, and 7:00 PM.

From September to December, on Fridays, the tour is available at 5:00 PM, 6:00 PM, and 7:00 PM, and on Saturdays and Sundays at 12:00 PM, 1:00 PM, 5:00 PM, 6:00 PM, and 7:00 PM.

From October 1st to December 31st, there is no tour departure at 7:00 PM.
Holiday departures
July 25th an August 15th, the tour ir available at 12:00 AM, 1:00 PM, 5:00 PM, 6:00 PM, and 7:00 PM.
October 12th, at 12:00 AM and 1:00 PM.
December 6th at 12:00 AM, 1:00 PM, 5:00 PM and 6:00 PM, and on December 8th, at 12:00 AM and 1:00 PM.
By car
The parking lot in the historical center of Valladolid is regulated by a dissuasive system indicated by three colors: blue, the general color; orange, of high rotation, and green, reserved to residents with an identification card.
In the case of both the blue and orange zones, parking time is limited - two hours for the first and one for the second - from Monday to Friday, from 9:00 am to 2:00 pm and from 4:30 pm to 8:00 pm, and on Saturdays from 9:00 am to 2:00 pm.
The innovative Telpark app allows you to pay for parking from your cell phone. This procedure can be done through the parking meters, equipped with the latest technology, with coins or bank card.
In Valladolid you will find more than ten parking lots, located in the city center -plaza de Zorrilla, plaza de España, calle Doctrinos, Plaza Mayor, Catedral, plaza del Poniente, plaza del Milenio, plaza Colón, El Corte Inglés and Museo de la Ciencia de Valladolid- or nearby, known as 'dissuasive', and which allow you to park for a whole day for two and a half euros -Casa de la India, Feria de Valladolid, paseo de las Moreras-.
By bicycle
There are two types of fares: the annual Bonobici fare, which costs 25 euros and is valid as credit, and the Occasional User fare, which costs five euros for a weekly card and is also valid as credit. Both types have usage-based fees, which will be deducted from the fare amount, and in the case of Bonobici, the first half-hour of use is always free.
In addition, in 2023, the innovative public bicycle parking network called 'Parkbici' will be introduced, offering nearly 300 spaces (check the Parkbici parking map), and the new public bicycle system called 'BIKI' will provide users with over 700 mechanical bikes and more than 200 electric bikes, which can be parked at nearly 100 designated stations distributed throughout the city. You can find the location of these stations and the service fares on the BIKI Valladolid website.
As a general rule, bicycles travel on the roadway and bike lanes. However, the use of pedestrian zones is allowed between 10:00 PM and 8:30 AM. Regarding parking, there are designated areas for bicycle parking. If those areas are full, bicycles can be parked on sidewalks, pedestrian areas, and promenades with a minimum width of 3 meters (never at traffic lights, regulation cabinets, signage supports, loading and unloading zones, parking spaces for disabled people, reserved spaces, pedestrian crossings, or elements attached to facades or historic buildings). You can find the complete regulations in the Regulatory Ordinance for Bicycle Mobility within the municipal area of Valladolid.
By taxi
The size of Valladolid makes traveling by taxi cheap. You can contract the service with the following companies:
Radio-Taxi Valladolid: 983 207755 / 983 291411
Taxi Valladolid Libre: 983 813333
Taxi Valladolid Mercedes: 983 102030
EventosGeolocalizados Portlet