Img_cabecera_123dias

Asset Publisher
Valladolid in three days
Valladolid is a land famous for its wines. Five denominations of origin converge in the province - Ribera de Duero, Rueda, Cigales, Toro and León - whose vineyards surround villages with charm, history and a quality gastronomic offer. We offer you a complete program based on wine tourism as the culmination of your three days in Valladolid.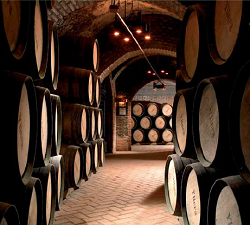 RIBERA DEL DUERO
Its rosés and, above all, its reds, are of renowned quality. It also has wineries that are a
reference point for tourism: Protos, a futuristic building designed by Pritzker Prize
winner Richard Rogers, and Abadía de Retuerta, located in a 12th-century monastery
that offers tastings, horseback riding, spa and meals in a Michelin-starred restaurant.

The most important town in the area is Peñafiel. Take a closer look at the wine culture
with its Wine Museum or enjoy its heritage: a magnificently preserved castle, its Coso
square, its convents or the archaeological site of Pintia.
CIGALES
Take note of two mandatory stops, depending on the route you take to reach Cigales:
the Monastery of Santa Maria de Palazuelos, in Cabezón de Pisuerga, or the castle of Fuensaldaña.
Although rosé is the wine that gives its name to this appellation, its reds are gaining more and more weight (don't miss out on the 2003 vintage). Complete the wine tourism experience with a visit to its traditional underground cellar, nine meters below the ground, or with a tour of one of the many wineries settled in the area.
TORO
Between Zamora and Valladolid is this D.O. of reds, rosés and whites, although its best-
known grape is the Tinta de Toro. If your excursion starts in Valladolid, we recommend that you stop in Tordesillas, a town that has witnessed numerous stories of queens and
courtly lovers, although its most famous episode is the reclusion of Queen Juana, called
'la loca', in the convent of Santa Clara.
Walk through its typical Castilian square and through corners such as its bridge, its churches and its palatial houses. Once in the lands of Toro, you can enjoy a wine-tourism experience in wineries such as Elías Mora, which offers the option of a technical tasting.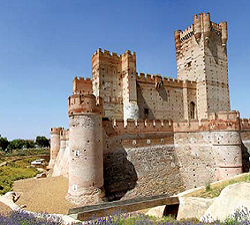 RUEDA
Although the name Rueda is usually associated with its verdejo (it can't be missed on
your visit), the appellation produces many other types of whites and reds. In addition to
discovering other varieties of wine and grapes, we encourage you to take a cultural
excursion - it won't be for lack of options!
Two of its great tourist attractions are Medina del Campo, with its La Mota Castle, known for its beauty and history - it was the prison of Hernando Pizarro, Rodrigo Calderón and César Borgia, among other illustrious figures -, and Olmedo, which has a Mudejar theme park, perfect to round off the day if you are travelling with children.
LEÓN
Approaching León, we find the D.O. that bears this name, where wines of all kinds are produced. You will be able to complete your visit with an experience linked to the bread of Valladolid, thanks to the museum dedicated to this tender food that is located in the town of Mayorga. Before arriving at this town on the border with León, you can stop off at Medina de Rioseco: the 'city of admirals' offers multiple options for enjoying its
heritage - the churches, the Easter Museum, the gates in the wall and the Castilviejo sanctuary stand out - or environmental tourism in its Canal de Castilla dock - by canoe or boat, the children will be delighted!
Información turística
Oficina de Turismo de Acera de Recoletos
Abierta de lunes a sábado de 9,30 a 14 y de 16 a 19 horas. Domingos, de 9,30 a 15 horas.
Teléfono: 983 21 93 10
Oficina de Turismo de San Benito, Calle de San Benito s/n
Abierta de lunes a sábado de 10 a 14 y de 16 a 19 horas. Domingos, de 10 a 14 horas.
Teléfono: 983 42 61 93
Contactar