Asset Publisher
Lope de Vega Theatre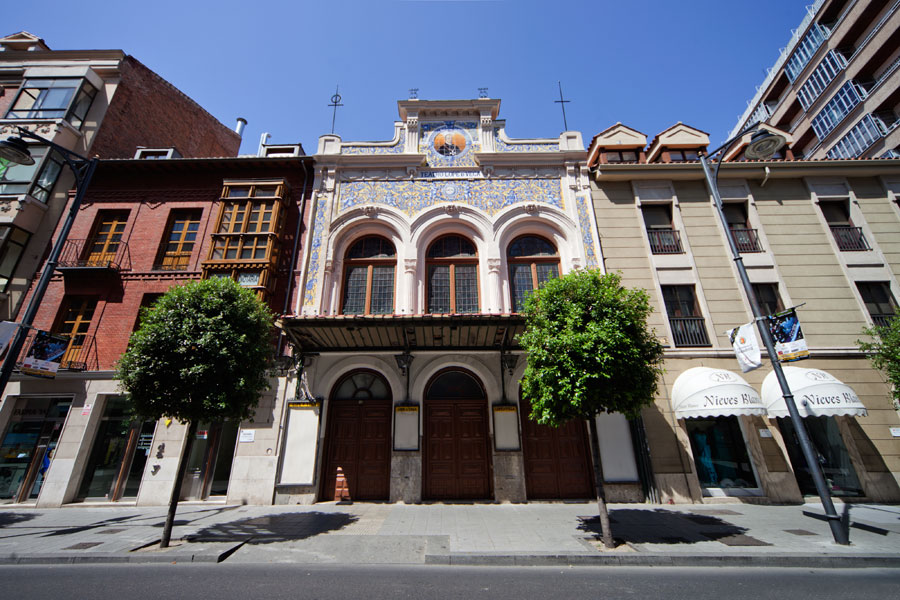 Lope de Vega Theatre is the oldest preserved in Valladolid. Designed by the architect Jerónimo de la Gándara, and built very quick, as narrated by the press of the time; it was inaugurated on December 6, 1861 with the representation of the comedy 'El premio del buen hablar' a tribute to the author who gives the building its name.
The facade we are contemplating today is the result of the 1920 reform. It is a classic style presentation, with six archeries and a pediment. This pediment had, in the past, a medallion with the effigy of Lope de Vega sculpted by Ponciano Ponzano. During this reform it was replaced by a portrait of the author in tile of Talavera, which today crowns the facade. In 1960 it was under a a new restoration that mainly affected his lobby.
For decades it worked both as a theater and as a cinema. It was even home to the Valladolid International Film Festival (Seminci).
It closed its doors on April 30, 2000. In 2006 it was acquired by Caja España-Duero (now Unicaja Banco) with the intention of rehabilitating it, a project that was finally unable to be undertaken by the economic crisis.
On February 12, 2020, Valladolid City Council and Unicaja agreed to swap Lope de Vega theatre for a plot in Callejón de la Alcoholera . As a result, Valladolid City Council takes over the historic stage space with the purpose of rehabilitating it for its value as soon as possible as a cultural property.
Teatro Lope de Vega Theatre is currently closed, pending its rehabilitation.
Asset Publisher
Opening times:
currently closed
Asset Publisher
Address:
Calle María de Molina, 12
Media Gallery
Valladolid seen through the eyes of its inhabitants and tourists