Asset Publisher
Pimentel Palace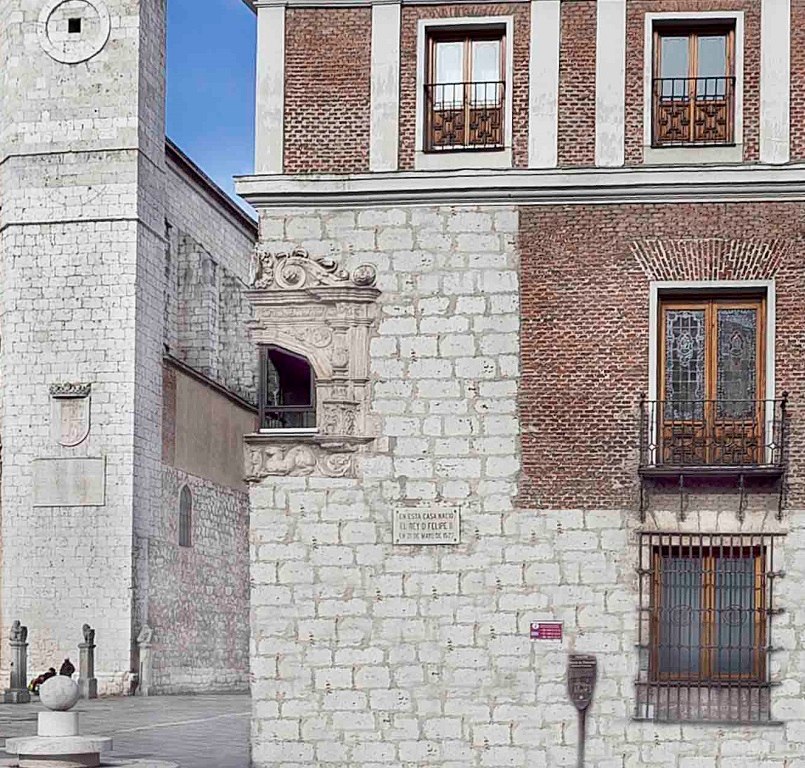 A window to Valladolid's most famous legend
In Pimentel Palace, located in San Pablo Square, Valladolid, King Philip II was born on May 21, 1527. According to oral tradition, the baby was taken out through a window for his baptism in the neighboring church of San Pablo because, it is said, had he gone out through the main door, he would have been baptized at the parish of San Martín. Can you guess which window it is? As a clue, we'll tell you that the supposed exit was "sentenced to life imprisonment."
On its exterior, there is a 16th-century window - in the corner where the palace meets Calle de las Angustias - topped with an original pointed arch and decorations in accordance with the dictates of the plateresque style, which was beginning to gain popularity in Italy at that time, featuring dreamlike and fantastical motifs, medallions, and columns.
An example of Valladolid's palace architecture, it is arranged around a courtyard that is accessed through a vestibule connected to Calle de las Angustias. This passage space is decorated with Talavera tiles that depict scenes of special relevance to the history of Valladolid, such as the arrival of Saint Teresa, the fire that devastated the city in the 16th century, or the baptism of Philip II.
Its interior also treasures rich Mudejar wooden ceilings, one in the Commissions Room, which comes from the neighboring Colegio de San Gregorio, and another in the Plenary Hall, which comes from the church of Villafuerte de Esgueva. Currently, it serves as the headquarters of the Provincial Council of Valladolid and houses a 260-square-meter exhibition hall, which can be visited freely, along with the courtyard and the entrance gate.
EventosGeolocalizados Portlet