Asset Publisher
Edith Alonso y Antony Maubert estrenan varias obras en un concierto en el Patio Herreriano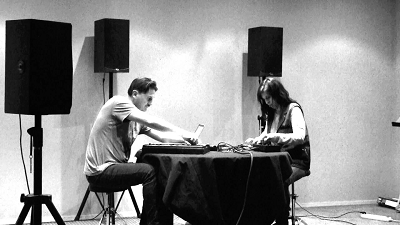 La actuación forma parte del programa de actividades paralelas a la muestra 'Espacio. Sonido. Silencio'
El Museo de Arte Contemporáneo Patio Herreriano de Valladolid ofrece este jueves, 29 de junio, a las 19,30 horas y con entrada gratuita, un concierto de Edith Alonso y Antony Maubert. Durante la actuación, enmarcada en el programa de actividades paralelas a la muestra 'Espacio. Sonido.Silencio', los músicos estrenarán dos piezas: Le miroir des sognes (El espejo de los sueños), de Maubert, y Relatos sobre la memoria, compuesta por Alonso. El acto se completará con la interpretación de Soundscapes with dogs and brokers.

Edith Alonso (Madrid, 1974) es músico, artista sonoro, improvisadora, pianista, compositora. Se especializa en composición instrumental y electroacústica en Paris en donde descubrió la música concreta de la mano de los continuadores de las enseñanzas de Pierre Schaeffer, y decidió dedicarse a explorar nuevas formas de experimentar con el sonido. Desde entonces se interesa por la música electroacústica y el arte radiofónico, colaborando regularmente con otros artistas y diluyendo las fronteras entre las artes y sus definiciones. Doctor en arte, ciencia y tecnología por la Universidad Paris VIII y doctor en filosofía por la Universidad Complutense. Co-dirige el festival Radical dB junto con Antony Maubert.

Por su parte Antony Maubert (Montargis, Francia, 1974) es un artista multifacético, improvisador, compositor, experimentador en varios campos del sonido y vídeo, participa desde finales de los años noventa en los festivales internacionales más prestigiosos de Europa, EEUU y Sudamérica. Estudió en el Conservatorio Superior de Música de Paris y se inició en la música electrónica en el Centro de Creación Iannis Xenakis de París. Fue profesor de composición en el conservatorio nacional de Niza y director de pedagogía en el Centre International de Recherche Musical. En 2013 se afinca en España, entre Madrid y Zaragoza, y concentra su obra en la elaboración de espectáculos 'totales' que unen música, danza, vídeo, iluminación y otros medios escenográficos.



See all the news